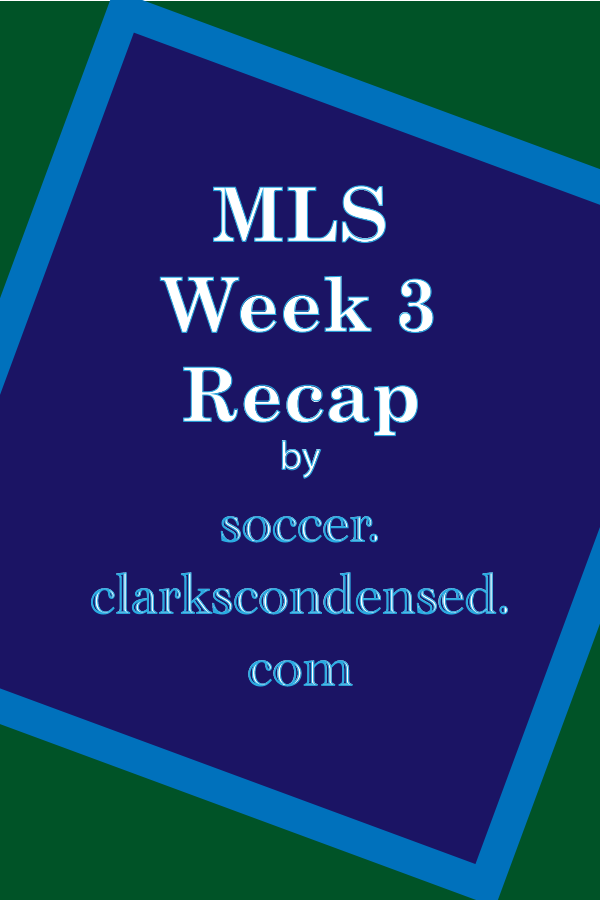 With the Goncalves situation supposedly resolved Revolution earned it's first shutout of the season. However, the Rev's offense still has not been clicking on all cylinders. Vancouver's high-octane offense came up blank for the first time this season. Vancouver attempted to adjust at half time with Pedro Morales coming on for Sebastian Fernandez. Unfortunately for Vancouver they couldn't finish their chances. There were a number of times that goalies had to come up big on some decent shot attempts.
Highlight: Full match highlights
RSL 1-1 LA
Goal: Saborio 19′ (Assisted by Joao Plata)
Goal: Keane 34′ (Assisted by Juninho)
In this strange early re-match early season rust and possible CCL fatigue made this a RSL v. LA match-up to forget. RSL went up early with a long set piece cross from Plata to Saborio. Saborio was left unmarked and had plenty of time to collect the ball and place towards the far post. Robbie Keane showed some individual skill by going at pace towrads newly returned Chris Schuler. Robbie Keane cut inside and then back out to slot it near post past Nick Rimando. Joao Plata was subbed out due to injury, and Olmes Garcia was subbed into the game. The partnership between Garcia and Saborio was not as polished as that between Plata and Saborio. RSL coach Cassar said that they would work on that this week in practice.
Highlight: Here is Sabo's goal.
TOR 1-0 DC
Jermain Defoe does it again. Fortunately for the rest of the MLS he showed a little weakness by not finishing more chances. Still a good choice for fantasy captain for me! TFC's Jackson was back at it again with his cheap shots. Hopefully the disciplinary committee does something this week. Part of the story of this one was the terrible condition of the field which some said was worse than a high school soccer field.
Goal: Jermain Defoe 60′
Highlight: Jermain Defoe goal
CLB 2-1 PHI
Higuain went to work again with another masterful performance. My fantasy forward Jairo Arrieta was very close to finishing a goal early on. However, Columbus would end up scoring two in the first half anyway. Bernardo Anor had a ridiculous blast from about 25 yards out. Philly was able to get one back in the second half, but it wasn't enough to crack the Columbus defense.
Goal: Bernardo Anor 24′ (Assisted By Frederico Higuain)
Goal: Bernardo Anor 45'+ 2″ (Assisted by Wil Trapp)
Goal: Leonardo Fernandes 62′ (Assisted by Sebastian Le Toux)
Highlight: My fantasy team member Le Toux gets an assist to Fernandes!
COL 2-0 POR
There was some snow falling for this one. Ricketts comes out and misses the ball, but he nails Deshorn Brown to earn a red. The penalty was converted, and then the backup keeper gets Sanchez for the second penalty that made the difference in this one. Portland is clearly off to a slow start. Jose Mari got an interesting red in the ninetieth minute.
Goal: Vicente Sanchez 73′
Goal: Deshorn Brown 75′
Highlight: Sanchez earns a penalty, and Deshorn Brown knocks in the rebound.
SKC 1-0 SJ
Opara gets as close to scoring as you can get without scoring. It was kind of funny actually, unless you're Opara. I'm not sure what Lenhart was thinking later when he smacked the ball down to his feet in his own box. Dwyer took the opportunity and drove into the back of the net from the penalty spot. Wondo misses a great shot late in the game.
Goal: Dominic Dwyer 57′
Highlight: Dwyer continues SKC's good penalty taking form.
DAL 3-1 CHV
Mauro Diaz shows again why he is such a young Designated Player. Dallas could have scored a few more in this one. It was a strong performance by them. This was a rough one with 7 yellow cards and 1 red card given. Erick Torres came through for me again on my fantasy team. Bofo was interesting to watch again. He isn't particularly bad, but he makes good choices and protects the ball. It is kind of like a lot of Chivas' players.
Goal: Fabian Castillo 71′ (Assisted by Hendry Thomas)
Goal: Je-Vaughn Watson 78′
Goal: Erick Torres 81″(Assisted by Kristopher Tyrpak)
Goal: Michel 86″
Highlight: Maybe, I shouldn't have taken Michel off of my fantasy team. He keeps coming on as a sub, so it is a bit risky to put him on your team. His goal here was a bit lucky, but it went in.
CHI 1-1 NY
I loved the first title that mlssoccer.com had for this one that included something like, "Gingers Go Wild." The redheads, Larentowicz and McCarty, both scored. I enjoyed McCarty composure on the ball for his goal. Mostly because I know I would be that guy that would have a heart attack and kick it a mile over the goal. I'm liking the play from Chicago's Amarikwa and Shipp. Shipp could be a good fantasy steal. This was a relatively evenly matched game.
Goal: Jeff Larentowicz 6′ (Assisted by Harrison Shipp)
Goal: Dax McCarty 21′
Highlight: Dax McCarty calmly lifts the ball through traffic into the back corner of the net.
MTL 0-2 SEA
Seattle was fortunate to get the early lead, but they reinforced it with another head from Obafemi Martins. He is proof that positioning is more important than height in heading in goals. Montreal still has not been able to convert chances well. Eric Miller, a rookie defender, almost miraculously went straight at goal past a few defenders and scored. It would have been amazing.
Goal: Lamar Neagle 8′ (Assisted by Kenny Cooper)
Goal: Obafemi Martins 28′ (Assisted by Gonzalo Pineda)
Highlight: Lamar Neagle's header bounces of the cross bar then Troy Perkins for a goal. So, it was an own goal by Troy Perkins. Should Neagle at least get assist points in MLS Fantasy League? Why not?