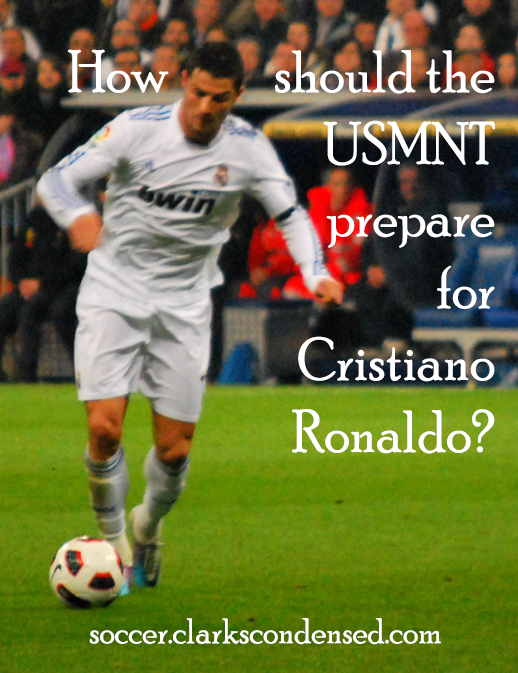 I thought about calling this 'Who does the USMNT need to contain Cristiano Ronaldo?', but, obviously, defense is a team effort. It is just as important to think about formation as to think about personnel. Matthew Doyle thinks that Jurgen Klinnsman might man mark Cristiano Ronaldo, and he mentioned Maurice Edu as a candidate. Recently Landon Donovan was quoted as saying, "[Cristiano Ronaldo] is a special player and a special talent. We could play an amazing game against Portugal, and he could pull off two plays that only he can pull off, and we could end up losing. So what has to happen is we have to play well, no question." The United States has been placed in what some would call the Group of Death. I feel like there are others that could earn that title as well. Additionally Matthew Doyle explained, "First and foremost is that the US will be facing a glut of left-sided inverted wingers in the group stage, starting with Ghana's Wakaso Mubarak before continuing onto Ronaldo and probably finishing with André Schürrle."
I'm sure that someone a lot smarter than me has figured most of this out, but I just thought I would put some of my thoughts out there. First, if someone who is going to man mark Cristiano Ronaldo or other dangerous inverted wingers what position/player can be sacrificed. Since marking him man-to-man is a defensive task then maybe a defender could be sacrificed, but I think the easy answer would be to sacrifice a midfielder. Maybe, it would be necessary to have a lone striker up top to supplement the midfield if a midfielder is sacrificed to mark Ronaldo.
Isn't a defensive midfielder's job to stop inverted wingers. They're supposed to be there just in front of the defense cutting off lanes and double teaming. Maybe that is why Kyle Beckerman has been given more opportunities to prove himself recently. Beckerman has always played a very specific role, and he has been relatively consistent. Beckerman is having a career year, but I wouldn't be surprised if Klinsmann has given him more minutes after he saw that US group draw. Edu would be a midfielder that could play defensively, but he is more than willing to make deeper offensive forays than Beckerman. Geoff Cameron seems like a logical choice to creepily follow and harass Cristiano Ronaldo. I only said it that way because I would feel weird man marking a whole game in soccer.
With some of the decisions to be made it seems like Klinnsman has to decide between a player who positions himself really well or a player with good make up speed. Ronaldo plays on the right, so it seems like Klinnsman might have to choose between left backs like Fabian Johnson (speed) or the aging DeMarcus Beasley (experience and positioning).
The USMNT needs to maximize their players skills sets in order to just get out of the group stage, and then I'm sure they'll hope they have enough clubs in the bag to make it a little further. How do you think the US needs to stop the dangerous inverted wingers that the US will face? Chad Marshall looked really good this week? He always seemed to be in the way of the opposing team. Is there something I'm missing as to why he isn't higher on the pecking order than guys like Goodson, and maybe even equal to Gonzalez and Besler?