For those of you who haven't followed RSL during the offseason a lot has happened. Here is a summary of some of what happened and links to learn more. The links are to other sites.
I thought I would throw this in there to start out with. Robbie telling the truth about Aurelien Collin's fouls in the MLS Cup final. Read more…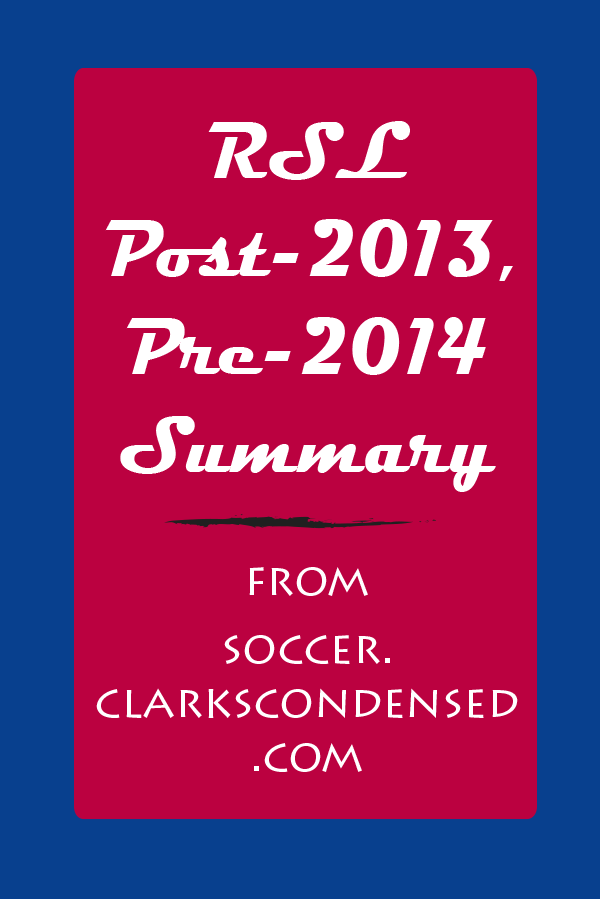 Coaching Changes:
Jason Kries leaves to NYC FC. Good luck Jason! Read more…
Assistant Coach C.J. Brown heads to Chicago. Read more…
Jeff Cassar named new coach. Continuity is emphasized. Read more…
Cassar names his new assistant coaches. Read more…
2014 MLS Super Draft Picks:
18. Ryan Neil, Outside Back, California Read more… 
Ryan Neil should be a decent, versatile outside back. Read more…
53. Joey Dillon, Midfielder, Georgetown Read more… 
70. Daniel Jackson, Forward, Coker College Read more… 
Trades and Signings:
Lovel Palmer to Chicago. Read more…
Yordany Alvarez goes to Orlando City Soccer Club. Read more…
RSL sign academy product, Jordan Allen, to  homegrown player contract. He would likely have been a top ten draft pick. Read more…
NASL best eleven member, Luke Mulholland, is signed by RSL. Read more…
New Jersey Deal:
LifeVantage becomes the new jersey sponsor for the next 10 years. Read more…
Apparently it is a great deal for RSL. Read more…
New jersey design
#RSL captain Kyle Beckerman at Media Day. New jersey features outline of a crown across the chest. pic.twitter.com/8qqDijpkWp

— Chris Kamrani (@chriskamrani) February 4, 2014
Storify summary of media day and new jersey. Read more…
USMNT Calls Up RSL Players:
Players called up to national team duty.
Luis Gil is youngest of the youngsters to be called up USMNT January camp. Read more…
Rimando, Beckerman, and Gil find playing time during USMNT games. Read more…
Surgeries:
Findley eyes April return after right patella tendon surgery in December. Schuler should start season healthy after having bone spurs on his left ankle removed in December. Read more…
Preaseason Highlights:
RSL vs. RSL Academy U-18s Highlights
RSL v. UC Irvine Highlights
RSL v Chivas USA Highlights
RSL v. NE Revolution Highlights
RSL v. Colorado Highlights