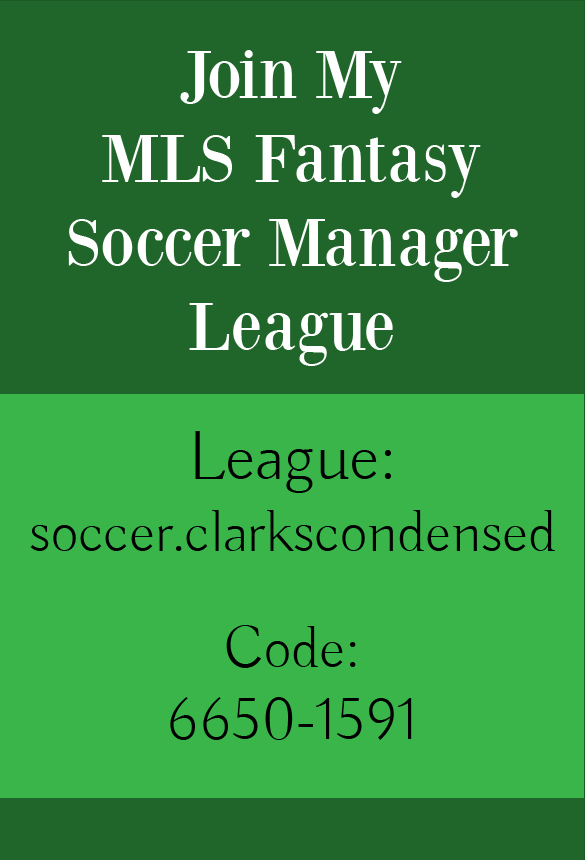 If you like fantasy sports or have never tried it then try out MLS Fantasy Soccer Manager. It is free and very easy to play. It makes following sports news a lot more interesting, and it is fun to talk about with friends and other MLS fantasy soccer players. You can start your own leagues. You could even start a league for your family or co-workers.
The idea is that you have the same number of players on a team roster as an MLS team's game day squad, 18. You have 120 million dollars to buy a team of players. Eleven players can earn you points any given week. Due to some teams having a by week, players leaving on international duty, or the different match-ups a week presents you'll want to have a few more quality players than you can have on the field. Also, you'll want some very cheap players that will stay on your bench to allow you to afford better field players. Each week you'll have a limited number of transfers you can make. I think it is three or four. One strategy with your transfers is to try to buy players early that you know will increase in value so if you need to sell them you can make a profit. Players earn points for things like goals, assists, shut-outs, and other key offensive or defensive plays.
The MLS Fantasy Manager site provides a lot of information about players statistics from the current and past seasons. Each week there are advice articles and videos to give advice to players. You can see what percentage of players have certain players on their teams. Yet, it seems that right when you start betting on a player or pattern things change. It isn't easy having a good team. Being at the top of your league takes a little bit of luck and some work.
I would love to have as many people as possible join my fantasy league. There are two types of leagues, head-to-head and classic. I have created a classic league called soccer.clarkscondensed and the code is 6650-1591.