This is my fantasy team so far. Fortunately we have unlimited transfers right now, because my lineup could really change before opening day. I think Sheanon Williams got hurt and came out of the game last night so that might have change.
Irwin and Kennedy are relatively cheap, and they are known quantities that I think should only improve this year. I think E. Miller and Palmer-Brown are decent young talents whose value should hopefully go up and their current price will go up. Moor is very consistent, and I think Colorado's last season acquisitions, Sanchez and Torres, will settle in and keep their opponents extra busy. Sarkodie and Houston have decent match-ups the first few weeks, and the seemed to have a good preseason (for as much as that is worth). If S. Williams is healthy he had a good year last year, he should have more help around him, and he is a long throw specialist. Park had a good year last year and he is a decent price for MLS veteran.
I think Gabavoy is underrated, and even though RSL has some tough away match-ups to start out with I have to pick someone from RSL. Valeri had a good first year last year, and Portland starts out with some decent home matches. I've captained him for that reason. Malki is dirt cheap. Evans apparently starts seasons off well, and the Sounders start off at home. Rose had a respectable showing last season, and he did relatively well during the preseason. Le Toux is a known quantity who is going to have a little more help this season. Hopefully, he will be more free to get some fantasy points.
I hope Bieler has worked out his issues with Peter Vermes. I think he has shown that for 8 million he is a decent buy. Torres had a good first year in the MLS, and he has some more support around him. I hope he uses that experience and support to have another decent year. Chivas starts out with two home games. I'm thinking Manneh will be more comfortable and experienced in Vancouver. He has a lot of natural talent, and without the reigning Golden Boot winner in the mix he should have more opportunities. Jairo Arrieta should be poised to have a better year this year.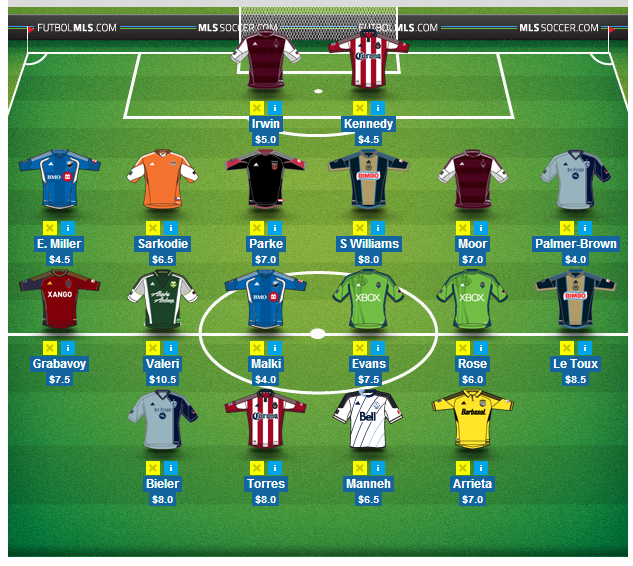 Personally, I try to shy away from newcomers. New players generally have some adjusting to do. A new place to live, coach, players to play with, system, and lots of other little things can affect how someone performs. You just don't know, so I try to avoid the gamble. I tried to focus on midfielders. I might adjust my forwards to having one be a dirt cheap forward, and another a more expensive one. Maybe I'll wait to see if any of their prices makes a nice jump at the beginning of the season and then I'll sell.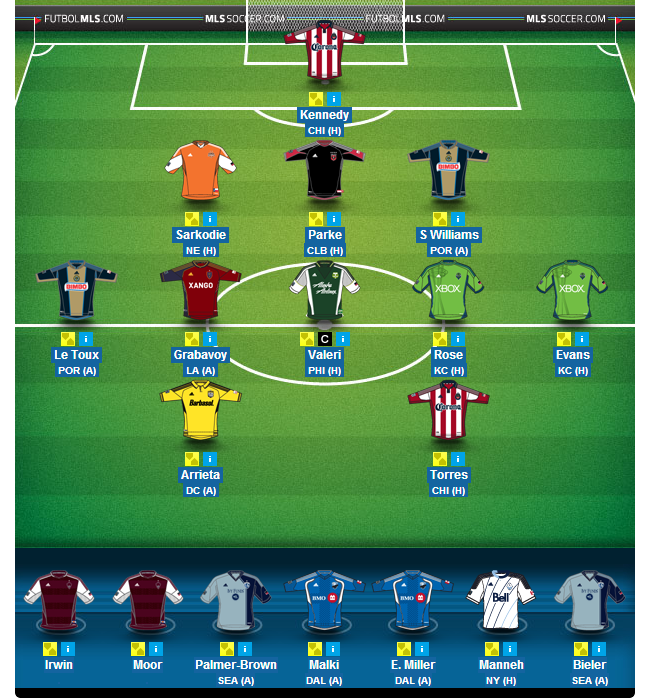 Let me know what you think in the comments below! Any tips or questions?
Edit: Apparently S. Williams got slightly injured recently, Manneh had some kind of injury that he might still be recovering from, and someone had made me doubt whether or not Le Toux will be starting. I replaced S. Williams with Michel. I'm not sure what else I will do.